Statement by EAM at Ministerial Committee of the NAM on Palestine
Posted on : | Back | Print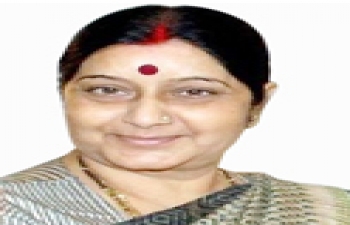 Statement by EAM at Ministerial Committee of the NAM on Palestine
September 26, 2018
Mr. President,
We thank the Venezuelan delegation for hosting this meeting. We are pleased to have H.E. Mr. Riad Malki Minister for Foreign Affairs of the State of Palestine among us today for his briefing to the Committee on the latest developments in Palestine.
I start by offering our congratulation to Palestine on their upcoming Presidency of the Group of 77 next year. This is a significant and historic moment. We look forward to working closely with the Palestinian delegation on issues of common interest to developing countries.
Mr. President,
India's deep and abiding commitment to Palestine is a reference point of our foreign relations. Our longstanding friendship with Palestine is built around three core dimensions – (i) solidarity with Palestinian people; (ii) steadfast support to the Palestinian cause; and (ii) development partnership to assist nation building and capacity building efforts. We are proud that this NAM Ministerial Committee on Palestine was established under India's Presidency during the VII NAM Summit in New Delhi in 1983.
Mr. President,
Our continued commitment to the Palestinian cause and earnestness to develop stronger bilateral relations is demonstrated in the successive high level visit in the recent past. Earlier this year, Prime Minister Modi's visit to Palestine was a historic occasion. During the visit, Prime Minister announced a substantial up scaling of our development partnership efforts in solidarity with the Palestinian people. India is investing in projects of healthcare, educational infrastructure, women empowerment and a printing press, in addition to other capacity building programmes. We have set up various bilateral institutional consultation mechanisms including Foreign Office consultations and a Joint Commission, which pursues these partnership projects. Development partnership projects worth around US$ 70 million are under implementation during the last five years. These include flagship projects like the super-specialty hospital in Beit Sahour and the India-Palestine Technology Park, which was inaugurated last year in Ramallah. We are grateful that the Palestinian President Mahmoud Abbas conferred the highest Palestinian award 'Grand Collar' to Prime Minister Modi in recognition of his contribution to the India-Palestine friendship.
Skills and capacity development for the youth and their enhanced engagement, as an investment in a better future, is one of the focus of India-Palestine partnership. The number of youth delegates to participate in the youth exchange programme has been doubled this year. We have also substantially enhanced the scholarships made available for Palestinian professionals and students for technical training and higher education from this year.
Mr. President,
India has supported UNRWA's work since its establishment. UNRWA has been carrying out commendable work for Palestine refugees. From this year we have increased our contribution to UNRWA by a factor of four times from a figure of US$ 1.25 million to now US$ 5 million annually. This is India's highest annual voluntary contribution to any of the UN's funds and programmes. We hope other member states, including the traditional donors will also step in to support UNRWA at a time when it is faced with a serious resource crunch.
Mr. President,
A negotiated two-State solution remains the only viable solution to the issue to bring sustainable peace and lasting security. Restraint and moderation are required on all sides. The stagnation since the collapse of talks four years ago and the deterioration in the security situation continues to cause serious concern. We hope for an early resumption of talks between Israel and Palestine that can move towards finding out a comprehensive resolution of the issue.
Thank you Mr. President,
Go to Top | Back | Print